Communication
Communications: communications refers to the use of an Internet-technology enabled network to facilitate human-to-human communications, whether peer-to-peer or server-mediated. Services include voice, messaging, facsimile, mobility, and fixed-mobile convergence services.
Technosol's bouquet of communication services are geared towards keeping businesses connected through technologically advanced audio and video conference facilities and VOIP services.
Technosol's unique hosted Call Centre operating out of our certified Tier III data centre offers inbound/outbound, desktop and administration contact centre solutions.
In keeping with our service oriented model, these solutions are customized, easy to deploy, scalable, cost effective and backed by dedicated 24x7 expert supports.
MESSAGING & COLLABORATION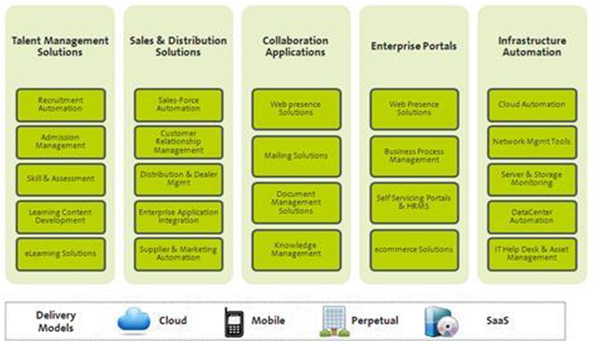 MESSAGING
In today's always-on, hyper-connected business environment messaging is no longer just strategic, it is mission critical. A successful business therefore needs sophisticated and scalable messaging tools that provide efficient, rich and secure access to email, fax, SMS, instant messaging, social networks, calendars, contacts and tasks through a unified messaging platform.
Now businesses can enjoy premium-class messaging that allows maximum output and flexibility with minimal financial risk by outsourcing their needs to Technosol. Technosol offers cloud-based e-mail, fax and SMS services, security and archiving capabilities that spans solutions on every platform.
EMAIL SECURITY & ARCHIVING
This is an industry-leading cloud-based Email Security and Archiving service. This service offers a comprehensive email management solution consisting of antivirus, anti-spam, content control and image control features, along with email lifecycle management and archiving capabilities.
Technosol takes full responsibility and accountability for the management and safety of your corporate email with our comprehensive Service Level Agreement (SLA) - we ensure 100% service uptime.
BENEFITS
Offers 100% guaranteed protection against both known and unknown viruses
Securely stores and retrieves hosted email
With email archiving your organisation can meet all regulatory and legal compliance standards
Simple and easy-to-use user interface
Integrates into any mail and messaging platform
Guaranteed service levels through a comprehensive SLA
99% spam capture rate with no more than 0.0003% false positives
Multiple third party scanning with Symantec's proprietary SkepticTM solution delivers a superior service.
HOSTED EXCHANGE
Hosted Exchange allows businesses of any size to enjoy the business-class email and collaborative functionality offered by Microsoft® Exchange in a pay-as-you-go cloud-based model.
The solution is fully outsourced and the managed Microsoft Exchange environment is hosted in the world class Technosol data centre network. This lets you access your emails, contacts, task lists and documents from anywhere, through any device, as long as you have access to an Internet connection.
BENEFITS
1.Keeps connected at all times by accessing your Exchange server from anywhere
2.Always on access to email, contacts, calendar and tasks keeps you connected while on the move
3.Use a professional business-class messaging solution
4.Technosol Hosted Exchange provides 99.9% uptime
5.The solution can grow with your business
6.Always on email lets you respond quickly to customer requests
BULK EMAIL
When sending out bulk emails, you need to trust that you have a reliable and effective system that is easy to use, manage and modify. Technosol Bulk Email is as a state-of-the-art, permission-based hosted email marketing solution that offers best-of-breed bulk email creation, sending, monitoring and reporting functionality. Whether you are a large or small company or agency, you can send high volumes of dynamic, personalised and highly scalable HTML and rich-media emails easily with Technosol's enterprise-grade solution.
BENEFITS
1.Manage mailing lists and templates through the easy-to-use web-based interface
2.Access the system from anywhere
3.Use industry-leading tracking and analytics
4.Create and automate sophisticated email marketing campaigns
5.Unlimited access to template management and creation tools
6.Industry-leading bounce management
7.Grow and profile your customer base
8.Conduct your own research
9.InBox Monitoring and Spam Assassin Content Scoring
10.Easily integrates with other enterprise applications
11.Hosted in a secure Technosol data centre
12.Unlimited ASP mailing events with no email file size restriction
13.Unlimited data transfer (uploads/downloads) via the user interface, API or FTP Service issue escalation for rapid resolutions.
HELLO FAX
Faxing has never been so practical or affordable. Technosol's Hello Fax is a best-of-breed fax2email service that lets you receive faxes for free and only pay for the faxes you send. It's more secure and efficient than traditional faxing as the faxes are routed directly to the intended recipient's inbox over Technosol's secure network.
Faxes are received in your email inbox as a .tiff or .pdf file, which makes saving, copying and forwarding much easier. You can send a fax from Outlook by putting the number in the 'to' field, the attachment as the fax and the body as the optional cover sheet.
BENEFITS
1.Auditable fax trail with faxes stored on your computer or server
2.No hardware, software, staffing or infrastructure required
3.Send faxes straight from Outlook
4.Free bulk fax facility
5.Receive faxes via email for free
6.Not billed for unsuccessful sends
7.14 days of archiving is included free
8.Reduces total cost of ownership of fax infrastructure
9.Technosol can assign a block of numbers for future growth
10.Paperless communication delivers additional cost savings
11.Limit who sends and receives faxes
12.Streamline processes
13.No Primary Rate Interface costs means cost savings and scalability
14.Sending faxes over IP networks costs less than landline
15.Real time reports
16.Full redundancy provided by Technool's world-class data centre
17.Retrieve faxes on any email-enabled device
18.Fax numbers are completely transferable
MESSAGE BRANDING
Technosol's Message Branding uses the most dominant form of communication as a powerful marketing tool for your company's marketing campaigns. The total volume of emails sent daily basis can turn mail into an effective communication tool.
Technosol's Message Branding is an open source email branding management tool, delivered as a software service, that lets you create and manage email marketing campaigns.
Technosol's Message Branding embeds outbound emails with eye-catching, clickable banners linking readers to your latest offerings or website. Create your email marketing campaigns with our simple-to-use tools, which allow you to manage banners per individual, group or company as a whole, group multiple banners and set start and optional end dates for the campaign.
The easy-to-use signature manager lets you create and manage the application of company-wide signature templates that meet your corporate and brand identity.
Technosol's Message Branding takes care of your company's legal, compliance and governance requirements with the tool's corporate disclaimer functionality.
Immediately track responses with full-featured campaign management functionality through the easy-to-access and understand web-based dashboard for insight into the success of your campaign or adapt your message for the desired response.
BENEFITS
1.Cost-effective, no expensive hardware or software licenses required
2.Maintain a consistent corporate identity in all company emails
3.No hardware or software needs to be installed
4.Easy-to-use interface
5.Centralised management of campaigns, banners, signatures and disclaimers
6.Customisable
7.Gain real-time insights into your campaigns
8.Supported and maintained 24x7.
MESSAGE SECURITY AND ARCHIVING
When it comes to information security and reliability, there can be no compromise. Technosol's Messaging Security & Archiving (Powered by Pinpoint) is a suite of four Linux-based email management tools that are delivered from the cloud on Technosol's world-class infrastructure.
The solution consists of:
1.Technosol Mail Security: Stops the most advanced attacks before they enter your network. Over 1,500 spam checks, three concurrent anti-virus engines and built-in phishing protection for all mail
2.Technosol Messaging Branding: Brands emails with linkable banners, manages email marketing campaigns, lets you control company-wide signatures and email disclaimers
3.Technosol Mail Archive: On-the-fly, scalable hosted email archiving solution that ensures email retention and compliance needs are met, unlimited storage and tamper-proof email archiving, instant search functionality for easy and rapid email retrieval.
BENEFITS
1.Block 99.95% of spam before reaching your network
2.Stop 100% of viruses by using 3 concurrent anti-virus engines
3.Provide 3 layers of phishing protection designed for African phishing attacks
4.No upfront investment in hardware or software
5.No licensing fees
6.Simple to set up and manage
7.Free unlimited access to email through Always On hotspots countrywide
8.Save bandwidth by filtering on the cloud
9.Pay-as-you-grow to scale on demand
10.State-of-the-art infrastructure and redundancy
11.Mail migration options
12.Reporting on branding campaigns
13.Custom white and blacklists
ZIMBRA MESSAGING
Sending and receiving emails is at the core of any company's ability to operate effectively. As such, it's essential that the messaging system chosen makes business sense - offering the full range of functionality while being affordable, reliable and easy to use. Zimbra Messaging provides all the functionality and capabilities of Microsoft Exchange, without the expense of the associated pricing and includes powerful collabortation funcationality.
Zimbra Messaging is hosted on secure, powerful server clusters in Technosol's world-class data centre. It delivers full, feature-rich and reliable email collaboration, all in one application, including:
1.Email
2.Calendaring
3.Shared calendaring and contacts
4.Global address lists
5.Instant messaging
6.File storage
7.Web document management
BENEFITS
1.Easy to set up, deploying within 24 hours and simple to use
2.Only requires one hour of training
3.Works with Windows, Mac or Linux and supports Microsoft Outlook
4.Provides Instant Messaging access across your organisation
5.Remove your data from the IS platform at no charge
6.Share your calendars, address book & documents with colleagues
7. 99.98% guaranteed uptime
8.Access to your email from anywhere on any Internet-enabled mobile device
9.Improve productivity by managing several email accounts with multi-gigabyte storage and work offline
SMS MESSAGING
SwaziSMS PLUS
SMS Plus Messaging platform acts an aggregator by receiving messages from various Users, using the different types of interfaces supported (SOAP, Desktop, Web Client and HTTP) and then processes these messages and forwards them to the destination Routes.
Features of SMS Plus Messaging platform™
1.Price based system.
2.Pricing assignments of a user are based on a country & operator pair that validates against the coverage of different routes.
3.Supports multiple routing for a user for different vendors.
4.Prefix based routing only for special prefixes.
5.Separated HTTP and SMPP submission.
6.Available as web service for users to send messages.
7.Includes a desktop client for users not only to send messages but to manage they contacts, groups and distribution lists.
8.Also includes a web interface for sending messages, viewing profile, balance and routing.
9.Fast Delivery reports.
For more information on our products and services, please click here
SwaziSMS Desktop SMPP Client
The SwaziSMS Desktop SMPP Client is an application that runs on a client computer and connects to an SMPP Server. This application enables you to send messages and receive Delivery Reports. Apart from the send/receive provisions you can manage your contacts with the Desktop Client using the AddressBook feature.
The Address Book allows you to create new Groups and add/upload contacts to a group. It also allows the creation and modification of Distribution Lists. Distribution Lists contain only numbers as opposed to groups which contain contacts that have a name and a number. Using the SwaziMS Desktop SMPP Client a user can also check his Credit Details online. Credit Details show the user details like the initial credit allotted to him, the credit used by the user till date and the balance left.
The next section discusses certain technical details about the application and its working environment so as to understand the requirements of the application and also to appreciate them. One does not need to read this section to use this application. But if you have a few questions as to why the application behaves the way it does, the next section might just answer them. Those who do not want to get into much technical detail can feel free to skip the next section.
Enable your organisation to communicate in a whole new way. With SwaziSMS messaging you will improve your organisation's communication levels and effectively decrease overheads by lowering phone call costs and automating communications.
SwaziSMS Messaging is a managed service that reduces the cost of communicating and enables effective interaction across touch points in sales, marketing, customer-service and product/service delivery.
Choose to use our services individually or as part of a comprehensive solution.
SMS Mail: Send and receive SMS from email
Outlook SMS: Send and receive SMS messages through Outlook
SMS Broadcast: Send SMS messages to a large list of recipients quickly and simply
SMS AppLink: Enable any company application or system to become SMS-enabled
SMS DutyAlert: A web-based service that alerts designated when problems occur
SMS2HTTP: An 'over the wire' service that uses an existing Internet connection to receive SMSs from mobile phones to any application
SMS2EMAIL: Receive SMSs from mobile devices as email messages
SMS InfoLink: Get mobile by requesting company info from your cell phone by sending an SMS with specific keywords
DocLink: Call for regularly used documents via SMS simply by using your cell phone
SMS Short-codes: Choose rates for premium rated short-code numbers and receive a revenue share pay-out monthly. Can link to Technosol SMS2HTTP, SMS2Email, InfoLink or DocLink.
BENEFITS
1.No start-up costs or CAPEX requirements
2.Reduce communication overheads
3.Instantly deployable & easy to use
4.Real time tracking & reporting
5.Message personalisation
6.Direct, secure connectivity
7.24/7 support.
For more information on our products and services, please click here
COLLABORATION
Collaboration tools offer a more convenient way of conducting business in our time-strapped, cost-sensitive business environment. Conferencing and collaborating across boundaries with various stakeholders has therefore become a priority requirement in the workplace.
Technosol offers a range of cloud-based, best-of-breed conferencing and collaboration solutions. These include audio and multi-party video conferencing and inter-company video and web collaboration tools for companies that want to emulate face-to-face meetings. For instance, Hosted Video Exchange is rich with collaboration functions and features, allowing your participants to document swap, demonstrate and interact online as if they were sitting around the table together. The WebEx solution allows you to interact in real time to get more done than ever before, with the ability to conduct virtual meetings and training, host online events, deliver support or collaborate in real-time through instant messaging.
AUDIO CONFERENCING
In today's busy world, time is a company's most precious asset. As such, enabling reliable and effective communication without wasting time travelling to and from meetings is essential. Technosol's Audio Conferencing is a cloud-based, on-demand call conferencing solution that lets three or more participants connect to a single call. It enables conference calling without the need for any specialised equipment or physical on-site implementation.
Conference calls are easy to set up and join. The host can call into the bridge at will to immediately activate a conference using their PIN code and provide a participant PIN to anyone they invite to call in to join. The end result is easy, time-efficient and rich communication and collaboration.
BENEFITS
1.Cost savings from reduced travel and call costs
2.No investment needed in on-site equipment or dedicated support staff
3.No charge for the service, just for the calls
4.Increased collaboration and overall productivity
5.Compatible with any telephony platform
6.Highly scalable to meet any level of demand
7.Toll quality connections and SLA-backed reliability
8.Highly secure communication platform
9.Gateway to converged voice and data services
WEBEX
WebEx is a cloud-based, online collaboration platform that enables your people to meet, communicate and share knowledge in real time wherever they are, whenever they choose. Putting the human factor into remote working, fostering the energy and immediacy that build rapport, inspiring learning, driving innovation – and helping you transform strategy into results.
The WebEx platform comprises a suite of proven, cost-effective and fully hosted applications that you can use separately or together:
WebEx Connect is a secure instant messaging application that also supports IP phone, voice and video conferencing or chat
WebEx Meeting Centre replicates face-to-face meetings by allowing participants to share voice, video and applications in real-time
WebEx Event Centre is designed to host high-impact presentations, webinars, press/analyst calls, staff gatherings and other events for up to 3,000 people
WebEx Training Centre enables teachers and trainers to deliver high-performance, interactive, online classroom sessions to distance learners anywhere, any time
WebEx Support Centre allows support teams to identify, resolve and track customer issues one-to-one in a secure, online support session
BENEFITS
1.Save on costly equipment and maintenance
2.Easy-to-use
3.Consolidate engagement
4.Meet in real time anywhere, anytime, using any platform
5.Feature-rich collaboration
6.Versatile integration
7.Increased accessibility, communication and productivity
8.Instant scalability
9.Highly secure and reliable
10.Delivers superior customer service.
ENTERPRISE CLOUD