Connectivity
Connectivity is not the physical infrastructure required to connect to a network but the optimal use of expertise in the Internet Protocol to facilitate logical connectivity with high reliability, security, appropriate performance to meet differentiated business requirements, and superior proactive and reactive service provisioning, restoration and maintenance. Current connectivity solutions include corporate Internet access, virtual private networks, community-based connectivity services and fixed and mobile broadband.
Technosol's integrated suite of connectivity services are based on its extensive expertise in pioneering cutting-edge technologies in network services. Based on its proven depth of domain expertise, Technosol offers an interoperable array of innovative, flexible, easy-to-operate, cost effective connectivity solutions to seamless integrate your business needs across the globe.
For more information on our products and services, please click here
HOSTING SERVICES
Technosol's expertise in offering the complete stack of hosting services is based on its strong connectivity backbone. Such services are ideal for domestic and global businesses that seek to manage their data, hardware and IT infrastructure requirements through third-party service providers.
Technosol's data centres are certified for the following industry renowned standards:
ISO 9001:2000 for quality processes
ISO 27001 for Information Security Management Systems
ISO 20000 for Information Technology Service Management based service delivery & support
TIA - 942 (Telecommunications Industry Association) standard for structural design, network, cabling, etc.
IS 1893:1984 standard for earthquake resistant structural design of premises
Our integrated, scalable offerings backed with stringent uptime Service Level Agreements driven by committed, industry veterans make Technosol an ideal partner for businesses with data centre requirements.
Technosol offers the following complete stack of services from basic Co-location to Managed Hosting, along with a large suite of value-added services: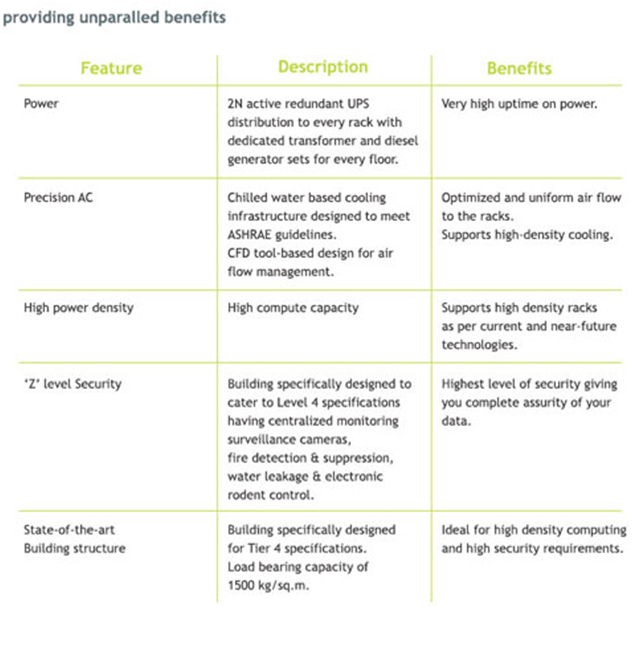 WIRELESS HOTSPOTS
OVERVIEW
Technosol provides a completely managed hotspot solution. This enables you, as a location owner, to run your core business and trust that your guests are able to access the highest quality wireless connectivity in a secure environment.
Technosol also has a number of roaming agreements with international partners, allowing international visitors to the country to use their overseas accounts while browsing on our Wi-Fi hotspots.
BENEFITS
Extensive Wi-Fi network coverage
Internet access and access to secure online resources for your staff wherever they are
VSAT SOLUTIONS
OVERVIEW
Technsol's VSAT offering allows clients to extend their VPN network into Africa via a dedicated "always on" satellite connection. VSAT is a sophisticated communications technology that allows for the use of small fixed satellite antennas to provide highly reliable communication between a central hub and almost any number of geographically dispersed sites.
BENEFITS
Connectivity across a number of geographically dispersed sites
FIXED BROADBAND
OVERVIEW
Technosol's ISP reseller agreement allows smaller ISPs to offer various capped and uncapped accounts to their customers, whilst only paying for the bandwidth they consume. The Technosol Wholesale Solution affords clients the benefits of post-paid, fully aggregated mobile data, with the ability to manage and report on every mobile user. The solution also allows clients to aggregate data across the following connectivity mediums:
GSM Network
WIMAX / Wi-Fi Hotspots
CDMA
All infrastructure is owned and managed by Technosol, thereby mitigating the need for clients to install any additional physical infrastructure of their own.
BENEFITS
Access to Technosol's easy to use web interface
Ability to engage with a single service provider for voice infrastructure management
INTERNET ACCESS
OVERVIEW
Technosol is the market leader in internet access services. We offer a wide range of solutions to suit any business need and budget. With our capacity on multiple undersea cable systems on both the west and east coasts of Africa, we are able to ensure maximum uptime and resilience.
BENEFITS
Wide range of tailored internet access solutions
MANAGED DATA NETWORK SERVICES
OVERVIEW
Technosol is Africa's most established and experienced Next Generation Service Provider, providing extended reach into sub-Saharan Africa, for corporate and multinationals. Coverage throughout Swaziland, greater Africa, New York, London, Hong Kong and Kuala Lumpur enables Technosol to offer an extensive global MPLS footprint.
Our Managed Data Network Services provides you with complete end-to-end control and flexibility over your networks performance, by utilising Multi-protocol Label Switching (MPLS) for a highly scalable data-carrying mechanism. Our trusted and resilient IP-enabled VPN's offers consistent access to corporate information, while allowing your workforce to communicate securely and efficiently between your branches, staff, suppliers and customers.
Providing any-to-any connectivity and the flexibility to support voice, video and integrated data applications on a single access medium, these solutions offer an efficient, scalable way to incorporate legacy and next generation applications into the network.
Whether you are a local or international business, our global reach allows for incredible flexibility as new office sites/locations can be added to you network quickly and easily.
Being Telco and medium agnostic, coupled with the ability to prioritise your business critical traffic using our 5 classes of service in an efficient Cisco AVVID compliant network, IS can enable your business room to develop and demand more from your IT services by allowing you to streamline your different data types.
Online performance tools facilitate network performance monitoring and control of your network, offering threshold notifications and proactive monitoring 24x7 in real-time.
MOBILE BROADBAND
OVERVIEW
Technosol wholesale mobile solution affords clients the benefits of post-paid, fully aggregated mobile data, with the ability to manage and report on every single mobile user.
The solution allows clients to aggregate data across the following connectivity media:
GSM Network
WIMAX / Wi-Fi Hotspots
CDMA
BENEFITS
Employees have internet access and access to company networks
Lowered cost of mobile data access
NETWORK OVC
OVERVIEW
Application Abundance is here. Is your network ready? At Technosol we are preparing enterprise networks to be application aware optimised platforms. This ensures future business operations are catered for in terms of flexibility, scalability, performance and cost savings. Network OVC guarantees application performance and a consistent end-user Quality of Experience (QoE) when accessing applications from an on-site, private, public or hybrid cloud.
Guarantees application availability and responsiveness, improving the efficiency of business processes dependent on network accessibility.
Ensures rightsizing of network bandwidth for applications to deliver performance objectives.
Centralised management platform to monitor applications' performance and usage and dynamically manage availability.
Wide range of customisable analytics to guide IT decisions for creating greater value.
The ability to implement application-based SLAs.

BENEFITS
Fully managed service.
Reduced IT support costs.
Agile and cost effective IT transformation.
Improved application performance.
Fully managed service: Technosol offers Network OVC as a fully managed service with 24/7 monitoring and support, ensuring application performance and end-user QoE.
Reduced IT support costs: Empower IT departments with proactive management and control of information systems in real-time, reduced downtime, deployment time and overall spend.
Agile and cost effective IT transformation: Network OVC empowers IT transformations for faster applicationimplementation, while maintaining end-user QoE.
Improved application performance: Network OVC shall improve application performance through a tiered SLA per application of the entire network. Network OVC shall improve application performance through a tiered SLA per application of the entire network.
Reduced telecommunications costs: Network OVC will provide unique network rightsizing views to determine the bandwidth required to fulfil an enterprise's business performance objectives. This capability determines the amount of business capacity required to meet on-going operational needs by understanding.
HELP & SUPPORT
Tel / Fax :(+268) 2 404 5778 (+268) 2 4090500
Mobile :(+268) 76809662
Email :info@technosol.co.sz